Disclosure: This trip was provided to me by Colorado Rafting AVA and this is a sponsored post + giveaway but all opinions are my own – we really did love it!
Nearly every time we taking visiting family and friends into the mountains we are asked if we have ever gone white water rafting. More often than not they are talking about Clear Creek which runs along I-70. Every time we have had to answer "no, but maybe some day". That "some day" happened this past Tuesday!
We were given an amazing opportunity to go white water rafting with AVA Colorado Rafting! Thanks to a perfectly timed email Chris and I were able to go rafting, GoPro the entire trip, share our experience here and…most importantly, give the same experience to a local – or visiting – reader!
Prior to our trip on Tuesday I had been rafting once. It was during my summer abroad in South Korea on a much wider river with only a few rapids. We were given helmets, life jackets and instructions I only sort of understood. I ended up in the water more times than I can count and we all went out of our way to splash – or better yet, tip over – the other rafts in our group.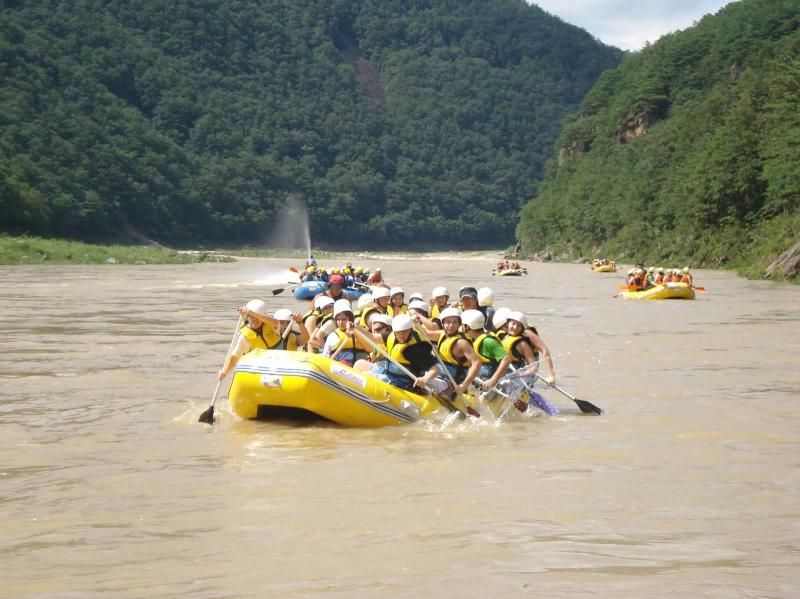 …rafting in South Korea – they fit a lot of us in one raft!…
Clear Creek looked nothing like South Korean river I had rafted in so I knew it was going to be an entirely different experience. Chris had never been rafting in any capacity so this was a new experience for each of us. We did a little research on the various levels and routes provided by AVA and settled on the shorter intermediate route.
Since our "weekends" are rather screwed up we made the drive up to Idaho Springs on Tuesday. Even though it was a weekday we got there about 20 minutes early because I had no idea what to expect. For future reference, this is what happened:
Check In + Sign Waiver – quick and easy

Meet Group + Guide – go over the schedule for the trip and what to expect

Get Gear – wet suit, optional splash jacket, PFD (personal flotation device) and helmet

Safety Review – address every possible scenario and how to react

Ship Out – pile in a big van/bus and drive up-stream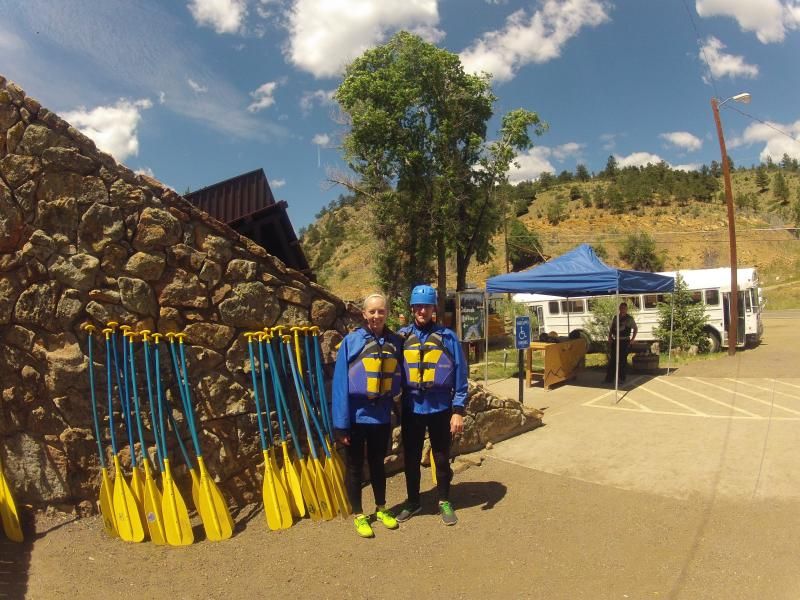 When we arrived at the drop in location the guides set up our rafts and had us get into our positions for a quick lesson on what to do. Well, it was meant to be a quick lesson but Chris and I had some coordination issues. It took us a lot of practice strokes in the gravel before our guide, Brian, felt confident enough in our ability. Luckily it all came a lot more naturally when we were actually in the water!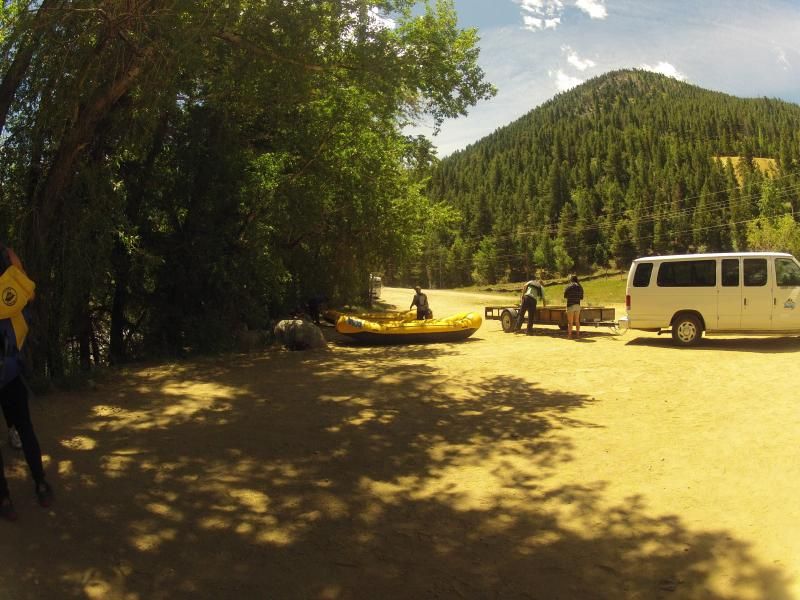 When we were getting our gear I mentioned that I had a GoPro I'd like to use and they were kind enough to dig up a helmet with a GoPro attachment already on it. I was prepared to sacrifice one, but this worked out perfectly. There really is no way to talk you through the rapids so I'll let the GoPro footage show you, even the video footage doesn't quite do it justice!
The white water rafting season had peaked a few weeks prior so the water flow was slowing down a bit. This meant the rapids were a bit calmer but it also meant it was safe enough to play around – check out the wave surfing at about 1:45. Also, look into the water left of the raft – that is a huge rock under all that water, it looks so cool!
We were on the water for just over an hour which was just about perfect. We had started at 11am and by now I was good and ready for food – preferably a gigantic burger from Tommy Knockers! After loading up the rafts and driving back to AVA we stripped off all of our wet clothes, tipped our amazingly patient guide, snagged a coupon for a free pint at Tommy Knockers and headed across the road for food!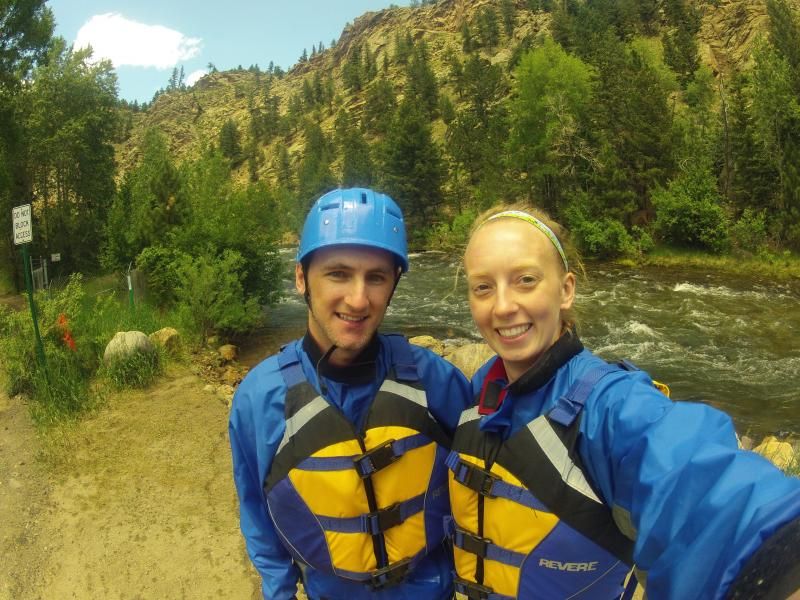 I am so grateful for this trip! We got to go outside of our comfort zone, experience on more new thing in Colorado and learn a little something about ourselves. When I called to schedule this trip I bombarded the poor guy on the phone with questions. To save him a little breath in the future, here is what we learned from our trip…
What we wore: basically running clothes, the tighter fitting the better considering the wetsuit, no cotton, secure shoes
How much paddling: quick paddling in short bursts, requires full body movement – our abs/backs were feeling it the next day
How intense are the rapids: looked worse than they felt, we never felt like our safety was on the line
Will we get wet: yes, definitely, but it is rather refreshing, the wetsuit and splash jacket will keep you from getting too cold
Overall, AVA was fantastic from the first phone call to our final chat with our guide. We felt safe the entire time and the guides clearly love what they do. Brian was full of fun tidbits of information about the area, the creek and mountain life in general. While the staff behind the desk seemed a bit distracted they were friendly enough and were able to answer all of our questions. We really enjoyed the experience and I'm willing to bet we'll be back, next time with a raft full of people and maybe on a different river!
So, does it sound like something you'd like to try?! It should – its so much fun and totally worth the drive up and the few clicks it will take you to enter in this giveaway! This giveaway will go until midnight, July 14th and the winner will be announced the following day. Important note: you can gain an extra entry every day if you Tweet about it!
The winner of this giveaway has to be able to take the trip before the end of the season, which usually ends in late August. You don't have to live in Colorado but if you are planning a trip you have to agree to a mountain hike with me. Or not. The trip for two can scheduled at any AVA location at any skill level. If you have any questions shoot me an email or post in the comments!
If you are feeling extra lucky today you can also enter this giveaway on Just A Colorado Gals' blog or on Couture Colorado's Facebook Page! And…Lauren just posted the giveaway on Oatmeal After Spinning as did Lynne on LGSmash! If I were you I'd enter them all and seriously up your chances!